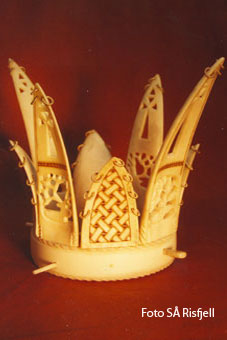 Pieces of art and rare items
Wedding crown nr 2 have made. It is made of reindeer antler with rich south Lappish, Sami engraving.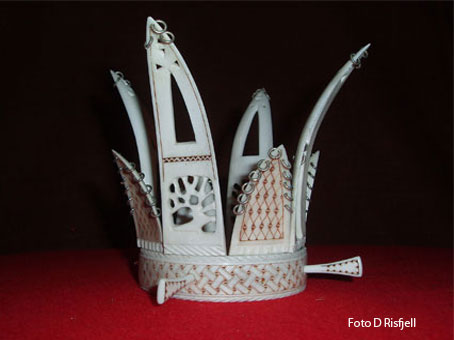 Inspired from the ski and the Lappish, Sami sledge. I made this weddingcrown in horn with rich south Lappish, Sami engraving.
I showed this crown in Riksutställningars exhibition "100 tankar om konsthantverk" (100 thoughts about handicraft)
My most rare item is "Daaskoe" a little bag that hangs on mens belt in south Lappish, Sami area.
It is made of antler with form, material and engraving after a Daaskoe that was carried by a noid (a Lappish shaman,medicinman) from Marsfjäll in Vilhelmina. It was left to Nordiska museet in Stockholm 1895.
It was a forgotten pattern part on it until I discovered it and now I engrave it on my handicraft. I showed it for the first time in Ajtte museum in Jokkmokk during the wintermarket 2010. Read more about the old noid, shaman pattern under About Lappish crafts on the front list.